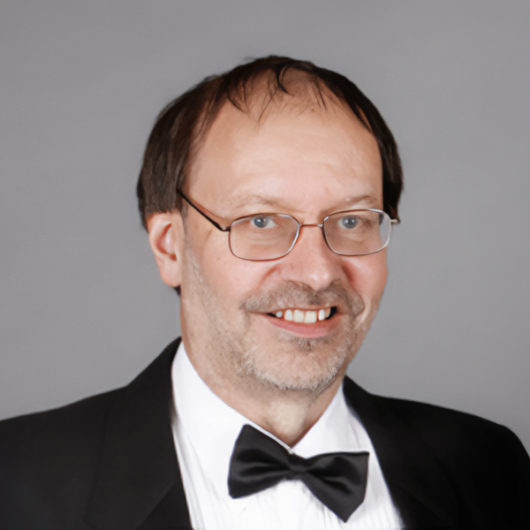 Thomas Clarke
Treasurer
Treasurer of GCA Board of Trustees; Principal Teaching Fellow of Technological Transformation at Imperial College London, UK
Dr. Thomas Clarke is the Principal Teaching Fellow of Technological Transformation at the Faculty of Engineering, in the Department of Electrical and Electronic Engineering, at Imperial College London, UK.
He possesses an impressive and varied academic and professional background. He completed his undergraduate degree in maths at University of Cambridge University, during which he designed and published research on a unique computer architecture known as SKIM. Following his time at Cambridge, Dr. Clarke delved into the industry, where he contributed significantly to the innovation of a diverse combination of analog, digital, and microprocessor-based electronics. This was done for a company specializing in manufacturing equipment that tests if products comply with RFI regulatory standards. Concurrently, he conceptualized another groundbreaking CPU architecture, which was later developed by a doctoral student at Cambridge. After dedicating three years to industry advancements, Dr. Clarke went back to Cambridge to earn his doctoral degree in Computer Science. He subsequently spent four years as a Fellow there.
Dr. Clarke transitioned to Imperial College, where he took on the role of a lecturer from the early 1990s. He has been playing an instrumental role at Imperial College, nurturing multiple areas of expertise. He imparts knowledge on computer architecture and functional programming. Furthermore, with the collaboration of numerous students, he has developed a sophisticated digital electronics design capture and simulation tool named Issie. This tool, consisting of a whopping 35K lines of programming – which is roughly equivalent to 100K lines in traditional languages, is an essential part of the Digital Electronics and Computer Architecture curriculum. Remarkably user-friendly, Issie can easily rival FPGA tool chains in terms of functionality. What's even more noteworthy is the evolution of the students' interaction with the tool. They start by utilizing Issie in their first year and by years 3 and 4, they actively contribute to its development, showcasing the immersive and dynamic nature of Dr. Clarke's teaching methods.
Click here to return to the Trustees page