Journal of China in Global and Comparative Perspectives
Journal of China in Global and Comparative Perspectives (JCGCP)
Journal of China in Global and Comparative Perspectives (JCGCP), formerly, Journal of China in Comparative Perspective (JCCP), publishes original multidisciplinary and interdisciplinary comparative research on China on a wide range of topics in the social and human sciences. It encourages debate, cooperation and co-authorship on the same issue or theme from different disciplines (including politics, economics, international relations, history, sociology, anthropology, cultural psychology and methodology). Its aim is to bring out the best in scholarship, transcending traditional academic boundaries in an innovative manner.
JCGCP is not simply about China – there are already several excellent China journals – but about looking at China from a comparative viewpoint as a player in broader patterns of development, ideas, movements, networks and systems. Comparison includes using China as a case study to examine a generally applicable
theory, or drawing analytical conclusions from comparative data about China and some other country or context. The comparison may be regional or global, historical or contemporary, and it may involve a comparison of perceptions: China's perceptions of others and others' perceptions of China in the context of China's encounter with the outside world in the political, economic, military and cultural senses.
We also consider articles that draw contrasts between China and non-China, Chinese people and non-Chinese people, or academic debates and dialogues between Chinese and non-Chinese, Chinese perspectives of the world or human knowledge, and non-Chinese perspectives of China in a global context.
In addition to research articles, research reports and commentaries, JCGCP also publishes periodic symposia on selected topics, in-depth review articles on particular areas of scholarship and reviews of books of unusual quality and significance for the study of China in global and comparative perspectives. Certain issues of the journal may focus on a particular subject, and we welcome suggestions for themes.
JCGCP is a strictly non-partisan publication and does not support or discriminate against any political, ideological or religious viewpoint. In accordance with standard academic practice, articles submitted for publication in JCGCP are subjected to a rigorous process of blind peer review. Although it was conceived as an
academic journal, the editorial policy is to ensure that articles that appear herein are of interest beyond the academic arena to policymakers, as well as readers with a general interest in China-related themes.
Honorary Editor: Stephan Feuchtwang, The London School of Economics and Political Science (LSE), UK
Editor-in-Chief: Xiangqun Chang, Global China Academy (GCA), UK
Senior Associate Editor: Frances Wood, British Library / SOAS, University London, UK
Executive Editors: Executive Editors: Jack Barbalet, Australian Catholic University, Australia; Susanne Brandtstädter, University of Cologne, Germany; Kam Wing Chan, University of Washington, USA; Andrew Fischer, Erasmus University Rotterdam, Netherlands; Bettina Gransow, Free University of Berlin, Germany; Carsten Herrmann-Pillath, Erfurt University, Germany; Keith Jackson, SOAS, University of London, UK / Kwansei Gakuin University, Japan; Martin Jacques, University of Cambridge, UK; Maria Jaschok, University of Oxford, UK; Laurence Roulleau-Berger, French National Centre for Scientific Research (CNRS), France; Gonçalo D. Santos, University of Coimbra, Portugal; Peter Schroeder, University College London, UK; Shigeto Sonoda, University of Tokyo, Japan; Julia Strauss, SOAS, University of London, UK; Peter van der Veer, The Max Planck Institute for the Study of Religious and Ethnic Diversity at Göttingen, Germany; Chenggang Xu, Stafford University, USA / London School of Economics and Political Science (LSE), UK; Peter Zarrow, University of Connecticut, USA.
English editing and proofreading: Ingrid Cranfield, Global China Academy and Global Century Press, UK
Chinese editing and proofreading: LI Zhuyue, Hangzhou Publishing House, China
Graphic design and typesetting: Mark Lee, www.hisandhers.design
Printing and binding: Lightning Source UK Ltd, Milton Keynes, UK
Distribution: Ingram Content Group Inc.
ISSN 2633-9544 (print); ISSN 2633-9552 (online)
ISBN 978-1-910334-51-5
DOI https://doi.org/10.24103/jcgcp.en.2015
DOI https://doi.org/10.24103/jcgcp
Copyright: © Global Century Press 2015. All rights for this book reserved. No part of this book may be reproduced, stored in a retrieval system, or transmitted, in any form or by any means, electronic, mechanical, photocopying, recording or otherwise, without the prior permission of the copyright owner.
Website: http://www.globalcenturypress.com/jcgcp
Email: journals@globalcenturypress.com
Postal address: JCGCP c/o UVIC, 23 Austin Friars, London EC2N 2QP, UK
Global Century Press at Global China Academy
Global Century Press (UK company No.: 8892970), a subsidiary trading company of Global China Academy (GCA), the first publisher dedicated to publishing academic, practical and popular books on
China bilingually in a global context, especially focusing on studies of China in comparative perspective, Chinese perspectives of the world or human knowledge, and non-Chinese perspectives of China in a global context.
Global China Academy (UK Charity No.: 1154640 and CIO No.: 1198983) is a UK-based independent worldwide fellowship that encourages comprehensive studies on China in the social sciences and humanities, with language-based comparative and global perspectives, through the dissemination of academic research, knowledge transfer, social consultancy and public engagement, contributing to the construction of the palace of human knowledge and participation in global society building and governance.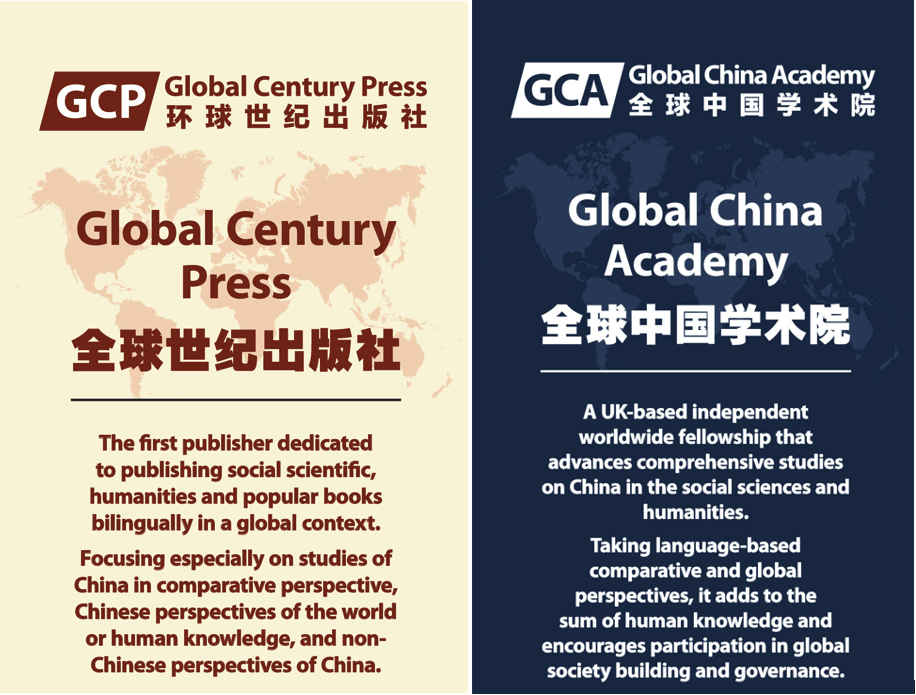 Journal of China in Global and Comparative Perspectives invites submissions of original, previously unpublished articles in English, Chinese or both languages. Information on submissions (Dual
languages, Articles and themes, Book reviews, General submission guidelines, Reviewing procedures, Title page and affiliation, Abstract, Summary, and Keywords, Word limits, Presentation, Referencing, Tables and figures, Permissions, Notes on rendering Chinese names, Examples of topics and themes) can be found on the 'Guidance for contributors' page of the Global Century Press website: www.globalcenturypress.com/contents-guidance-contributors.
Permission: The publisher requires authors as the rights holder to sign an agreement when making a submission: https://www.globalcenturypress.com/article-submission-form.
https://www.globalcenturypress.com/peer-review-form
https://www.globalcenturypress.com/books-request-form
Disclaimer: The publisher, editors, and authors cannot accept any legal responsibility for any errors or problems with respect to the material published herein.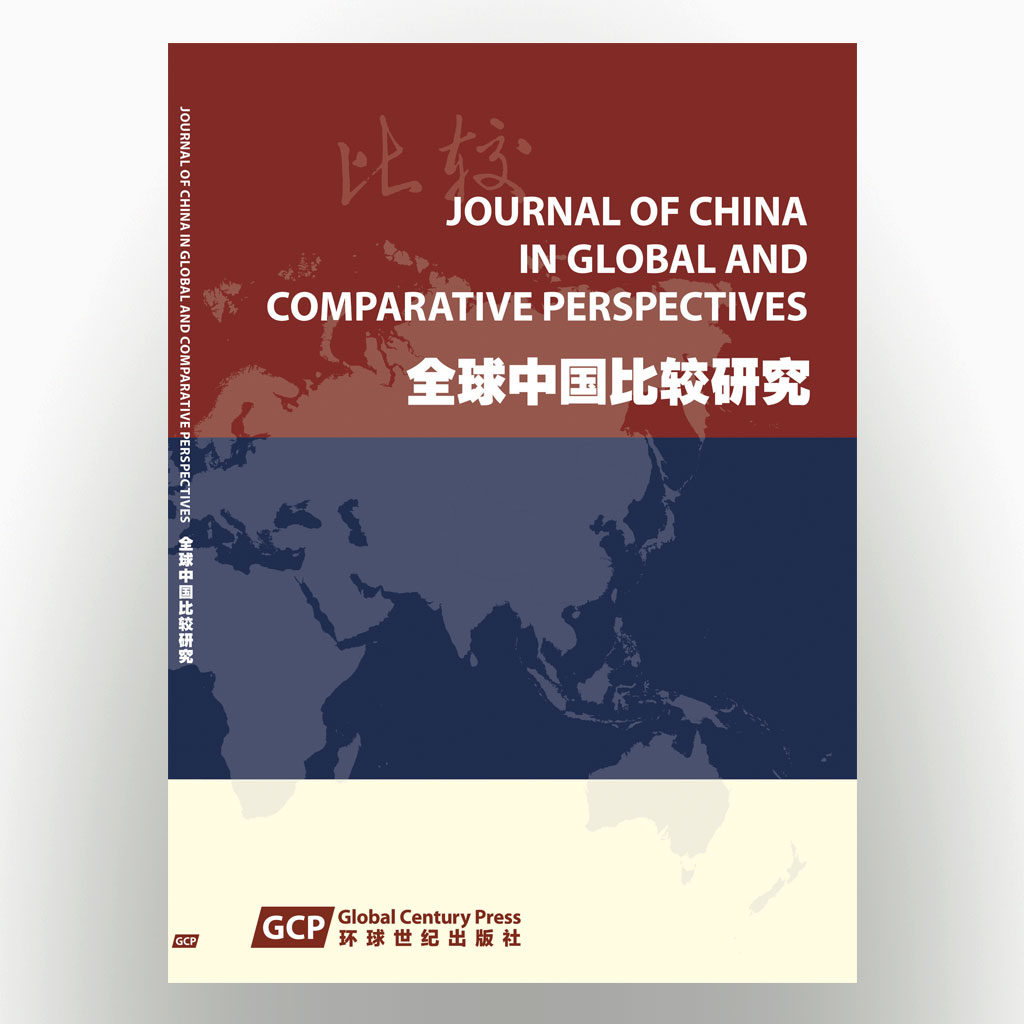 Individuals: £68-98
Institutions: £138-168
Bank transfer:
Bank name: Lloyds Bank Plc.
Address: Edgware Branch, PO Box 1000 BX1 1LT
Account name: Global China Academy
Account no: 56158060, Sort code: 30-84-76
IBAN: gb66loyd30847656158060. BIC/swift code: loydgb21775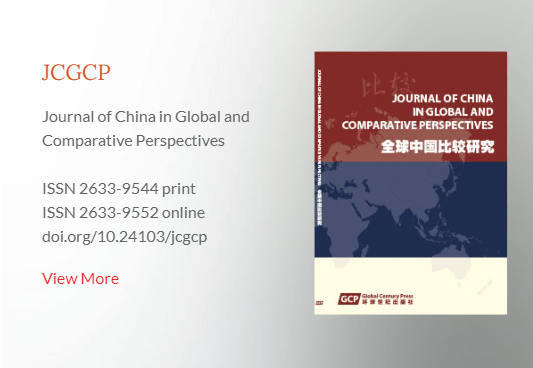 Vol. 8, 2022
Vol. 7, 2021
Vol. 6, 2020
Vol. 5, 2019
Vol. 4, 2018
Vol. 3, 2017
Vol. 2, 2016
Vol. 1, 2015